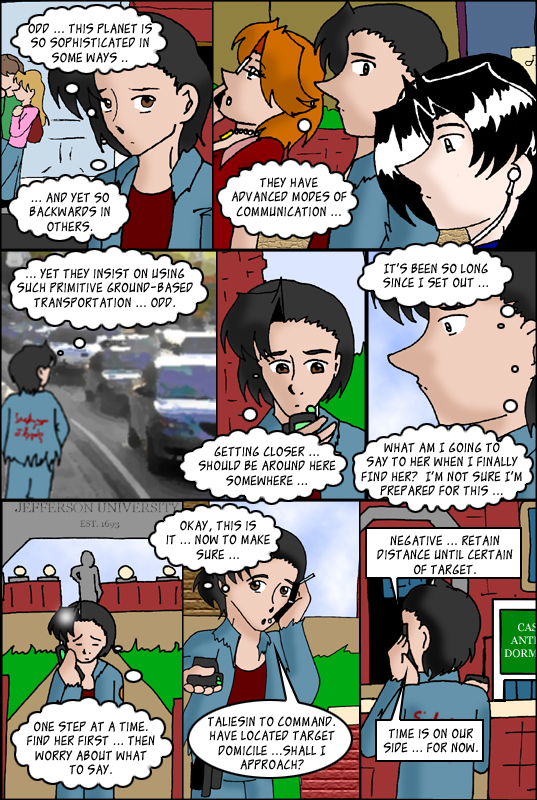 "See? Bet you thought you'd never see a drunk monkey puppet urinating through a sunroof while reciting Shakespeare did you?" by Rob
Saturday, January 14, 2006 at 8:12 PM

Whew! Made it home before the bad stuff hits *we'll see if it actually does* cause it's not a good car for dealing with bad weather *most sports cars aren't*. Had fun this weekend, even though we didn't get what we wanted done. We did get a good jump on next weekends performance though...so wish us luck.
Must see more of the British show "Coupling" funny...funny stuff.
And must get ahold of more Greg The Bunny stuff....somes showing on IFC....original stuff...anyone have it?
Oh! And a force effect Lightsaber...must have one...
Resistance is FUTILE!
Neo-Vader III

---

'I've got a party favour in my face!' by Kara
Saturday, January 14, 2006 at 10:42 AM

Can you see the cameos? Can you? One should be obvious if you're a regular reader of my other stuff. The other is cross-comic, from The Lounge.

Now, then. Locations. Panel 1? The Triangle Building, the location of the British Corner Shoppe and Cafe (where I was once a great sandwich-maker) and A. Carroll's (where all the Red Had Ladies go for their 11 AM martinis).

Second, Duke of Gloucester Street, near Wythe's Candy and across from The Chrismas Shop and The Trellis.

Third ... a Photoshopped photo. Bite me.

Everything else until the last panel? Nowhere in particular. Well, actually, bottom left one is kind of like the top of the triangle of W&M, with the statue back there, except there's no archway or anything. Anywhere on campus, actully. You just needed the name.

Last one? The side entrance to my old dorm, Jefferson Hall - the bottom left window would be one of the windows of my room, both times I lived there. Biggest non-handicapped room in the building, mainly because it was also the only one with no sink.

I'm starting to think of Taliesin's back as a separate character at this point.

---
---