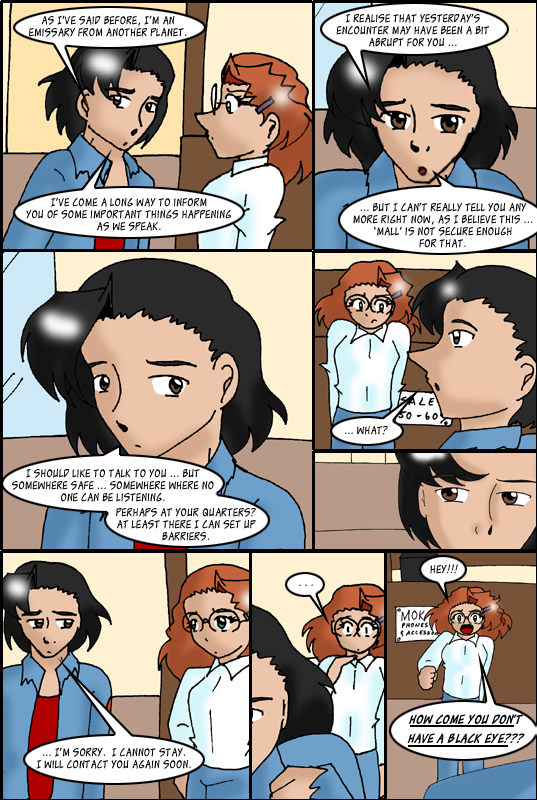 "What the hell are we in now Tron? Oh MY GOD I WAS KIDDING!!!" by Rob
Tuesday, February 28, 2006 at 4:59 PM

Went to work today, first time since thursday. It felt good to get back into a somewhat normal routine. Except for the labored breathing when stressing myslef and general lack of energy. At about 3pm I was sitting down and said to Al " I'm stoking the fires, but I don't think there's any steam in the boiler" now its good to be home resting.
Do not....at any price ...watch a Dollar DVD available at WAll Mart called 'Space Thunder Kids'. Don't. I won't be responsible. It's the kind of anime *if I can even call it that* that immediatly got us thinking about a panel on the worst shows ever made. And this was on the top of the list. I could MST3K it...but its hard to even do that...Joel, Tom and Crow would have shot themselves. You have been warned....
Gonna try and do my taxes tonight. Pray for me.
Resistance of the Dollar DVD is FUTILE!!!
Neo-Vader III

---

'There are very few kinds of hooha that are legal in Virginia.' by Kara
Tuesday, February 28, 2006 at 8:50 AM

We're slipping in the rankings. Geesh, guys. Do I have to do new incentive art already? Boy. You guys are just never satisfied. Well, I'll be thinking, but no promises. My ability to be creative is getting eaten by my actual job.

I am not entirely sure what the deal is, but I've been incredibly sleepy lately. I know I'm not sick, because if I were, I'd be sleepy and already floored. I'm thinking it's just my previous insomnia jumping me all of a sudden. On the bright side, this means I'm actually sleeping through the night. Not on the bright side, I'd really like a nap right now.

Or it could be these nasty weather fluctuations playing merry hell with my metabolism. Really, it's anyone's guess. Especially around here.

Next thing I'm doing with Anime-Classic? Train X. It's currently being sent off for translating, and I'll either be editing or QCing it. Doing this stuff for A-C (and sometimes for Anime-in-Action) is actually how I see a goodly amount of stuff, so I'm looking forward to it. Also, the shorter stuff is a nice break from things like Vifam. Which I enjoy, don't get me wrong. At this point in the show, we're starting to actually run rather short on grown-ups. I'm considering running a pool, but we don't have enough adults left to actually do that.

Yeah. That means one.

Remember the scavenger hunt - full karaoke of 'W-Infinity,' the OP to GEAR Fighter Dendoh (or, as has been pointed out to me, GEAR Senshi Dendoh - hadn't thought about the fact that the connection might not have been made). Prize is a free commission, a pat on the back, and Rob's eternal gratitude.

If you have been, you ought to be ashamed of yourself.

---
---