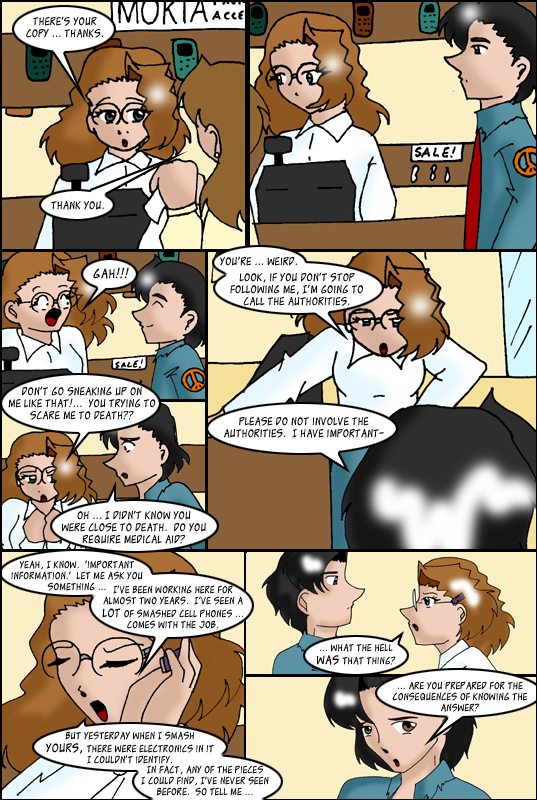 "Dude! If two Hot Japanese girls had asked if I was going back to the hotel with them, I sure as hell wouldn't have made it in to work the next day!" by Rob
Saturday, February 25, 2006 at 12:59 PM

And the official verdict is....
Upper resperatory infection! Tah Dah!
When I was shivvering under three blankets *I'm normaly a hot blooded person* I knew it was time to see the doctor...after hacking up large chunky bits and not being able to breathe properly, I made it to the Doc who gave me good meds that are making me better now.Prednisone and Amoxicillin & Clavulanate work wonders on my lungs.
Aside from sweating through my clothes yesterday and the two blankets on the couch, I feel much better already. I'm not one to resort to drugs unless I have to, so in this case I'm all for them.
In other news I'm finaly playing FFX now...being sick on the couch will do that to you.....Make you catch up on your RPGs.
I'm gonna cut it short so I can take a nap.
Resistance of the Bacteria is FUTILE!!!
Neo-Vader III

---

'Can I at least keep you in some sort of half-goo stasis?' by Kara
Saturday, February 25, 2006 at 8:57 AM

Wow. Been on this dirtball a quarter of a century, and I still haven't gotten a pony.

We've had one try on the scavenger hunt - to remind you, the full karaoke of 'W-Infinity' (OP) from GEAR Fighter Dendoh. One thing I'd forgotten ... so close ... it's also not the Super Robot Taisen MX version we're looking for. Damn close, but they've just replaced the vocal line with a little MIDI instrument. Points for effort and tenacity, though, because I'm guessing even that took a long time to find.

The Three Comic Pile-Up is winding down, so have a final peek while you can. Remember that it also includes Bassetville, which I think I'm going to start up reading - what I've seen is pretty nifty.

Right, then. If you have been, let me know.

---
---