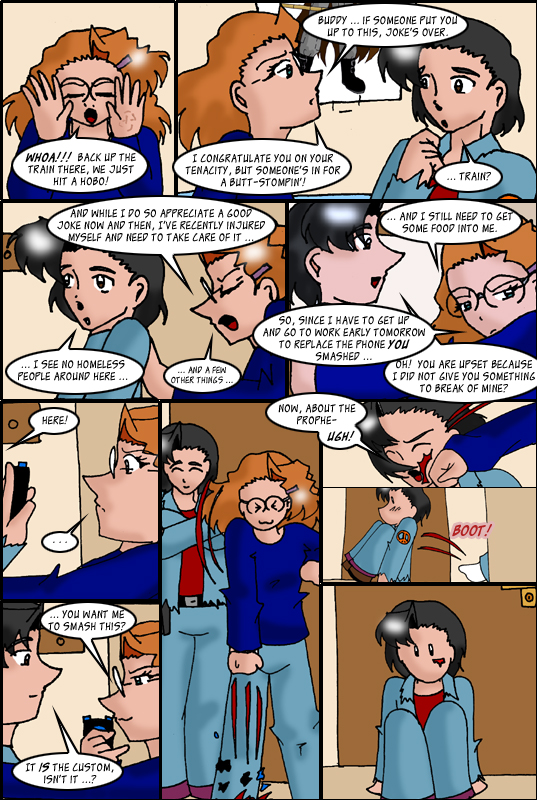 AUGH!!! by Kara
Saturday, February 11, 2006 at 7:11 PM

Wonder if Rob knows you can post multiple rants to one comic.
BASTARD!!! ¬.¬
You know, my birthday is coming up ... I do like shiny things ...
... BASTARD!!!!

---

Said like a robot-"I can't see anything insde, but if I break the glass there might be water inside for us to drink." by Rob
Saturday, February 11, 2006 at 3:24 PM

Heh , I just got cells in the mail. Yeah You're gonna hate me Kara.

I got a Volfog headshot, a Screaming Mamoru, a Glowing 'Jokai' Using Mamoru...and a Key cell from Guy using the 'Will knife'

Rock on...there be frames in my future I think.

Snow...HAH! Not where I come from this isn't.

I'll be amazed if there's more than an inch tomorrow.

Resistance is FUTILE!!!

Neo-Vader III

---

'You're my best friend and I love you, but could I please punch you in the face just once?' by Kara
Saturday, February 11, 2006 at 10:50 AM

Got to hang out with a friend whom I haven't seen in about a year last night. Stayed up 'til night 3 AM watching DVDs, which I really don't do enough on weekends. She also watched me scan and color this baby much earlier in the evening. She's interested in doing a comic of her own (thus the watching and not getting bored), and I have a feeling she would actually go through with it and be consistent - so I'm encouraging her however I can.

Apparently we will be getting snow in my part of the state (and the Co-Writer with the Longest Hair's, possibly) fairly soon. So I suppose if I'm going to buy things, it'd better be today. Times like this I really wish I had a washer/dryer in my actual flat, rather than down the block. Also, more quarters.

I feel like I'm coming down with some nasty bronchial thing. That wonderful illness that doesn't prevent me from doing stuff, but does leave me sounding (and generally being) generally gunky and nasty. Better now than later, though. Get all illnesses out of the way before the next two coming weekends, dammit.

The British Shoppe, where I used to work and still like to go, is changing hands the week after Farpoint/Katsu. So I'm going once more today while it's still the same 'format.' Oh, it'll still be open and have some of the same people working there, but it's gonna be chouberi different. 'net access (good), no more British imported stuff (bad), breakfast (good), ability to be a late-night haven for college kids (bad), serving beer (good, as long as Chuck actually listens to me re: offering Killian's - why is Killian's too much to ask?).

Enjoy beat-up Taliesin. If you have been, shut up.

---
---