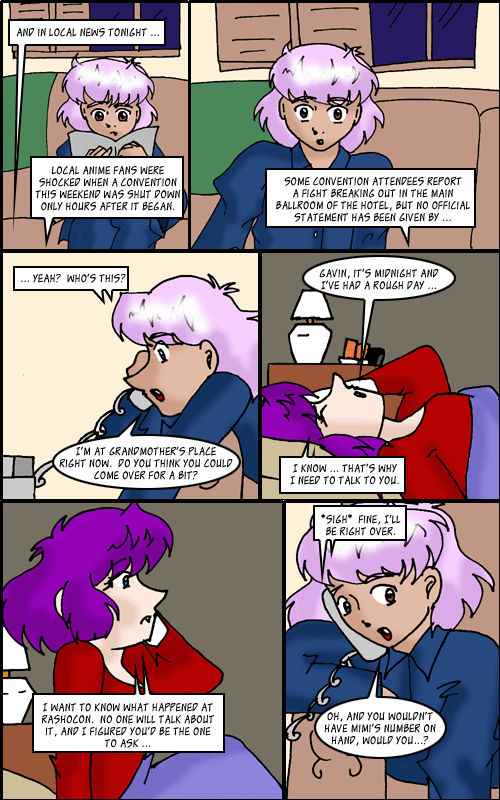 'Seduction does not involve hiding under the bed with "De Profundis" and a bottle of Bowmore.' by Kara
Monday, February 13, 2006 at 8:52 AM

Here we go. Now, sharp-eyes, I've given you a blatant clue as to what this story is gonna be about - or, well, what it's gonna be like. I wonder who's clever. It's an easy one, so five points. (Which do nothing; the points don't matter.)
Getting ahead on comics. No, honestly. I actually am. I'm rather pleased with myself. However, I'm not pleased with myself for having no food in the flat. Granted, I never eat at home, but that's not the point. I've got leftover pizza and a bottle of orange juice. That's hardly a good nosh.
What with liking to have the telly on while I draw and being too lazy to stick in a DVD more often than not, I've ended up poking at Disney Channel sitcoms. It's a little unnerving that That's So Raven seems to promote the medieval Catholic idea of predestination ... shut up, I get bored and think about this stuff ... which gives me the mental image of Raven convincing her wacky friends to buy indulgences. Now that would be a show. Yeah. That's So Lutheran. I'd hit that.
Oh, and Fragile Gravity today. Read it. Keep reading for awhile. And don't worry about continuity - my now-current storyline takes place over the course of one night. Also, this time it's completely on their side of things. I'll be drawing some for them, but other than that, this story of mine takes place one con before theirs. (We've discussed this. Seriously. At MarsCon. Yes. We're sad people.)
Tomorrow's gonna be way boring for me. If you have been, don't brag about it.

---
---