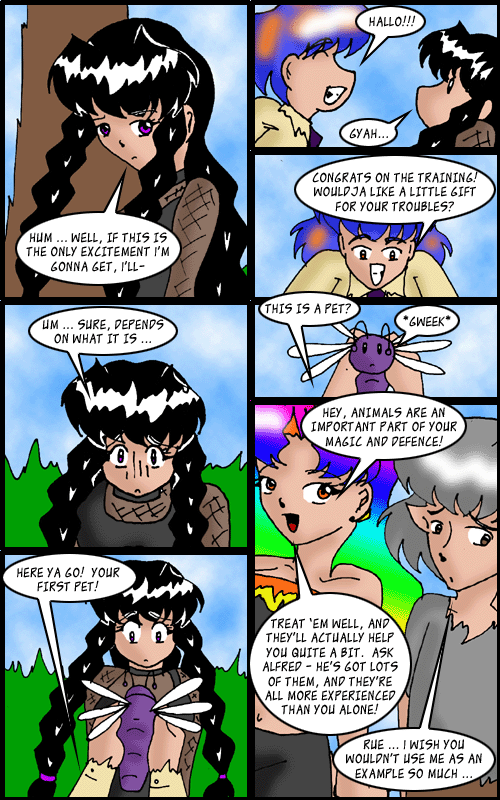 'Tastes like real black pearls!' by Kara
Sunday, January 15, 2006 at 12:07 PM

Isn't the dragonfly cute? And it goes 'gweek.' Why gweek, I dunno. It sounded cute at the time, and the time was fairly late at night.
This weekend is MarsCon, and I'll be sitting at least one of the webcomic panels. And selling my book. You can also see me at the Friday improv, the general Saturday night show, and the Doctor Who panel. Busy girl. You might find me dead in a hallway at some point.
Back to comicking. If you have been, there's Kleenex over there.

---

Hell hath froze over by Mich
Sunday, January 15, 2006 at 12:30 AM

Well this part of hell anyways. It's all the more bizzarre, the snow is Friday and some of Saturday was shorts weather. It was riducously warm. And then BAM he cripple this cowriter with a pressure headache (she has too much air in her head) and make it snow.

For you musical fans, and Disney fans. I saw The Lion King on Wed. Ah, sooo, stunning. My job barely skims the surface of the stuff that they do in that show, but damned if I'm not going to learn!

Mmm, our randomly named character. Yet another whose hair I wouldn't mind having, though in this case because it's rather bizarre. I mean blue, with orange highlights? I had blue hair for a bit, but alas, my hair doesn't like to change colour. Ideally, I'd have Haplo's hair colouring.

Tomorrow I finish Angelic Layer, get more batteries for my mouse, and hopefully go to Mug Night (I think I've been tormenting the manga-ka about her costume enough now, I guess I'll give that to her too, once I take a few more pictures that is)

Yup, the Elizabeth dress and wig are done (well as done as things get until I learn how to do a french twist with rather long wavy hair)

If you have been, why aren't you registered for MarsCon?

---
---