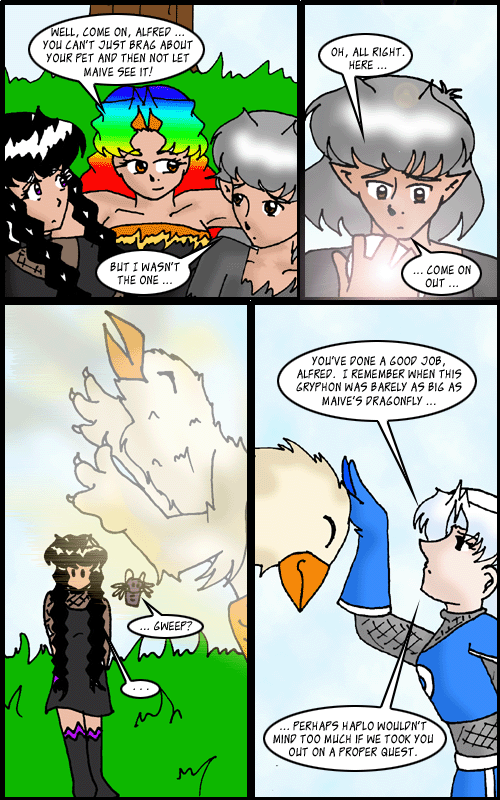 'I want a commemorative hummer!' by Kara
Sunday, January 22, 2006 at 1:06 PM

Your manga-ka's been a bad lady this weekend. Swanning off to cons and not getting back 'til 1 AM because she's been carousing with pirates and Stormtroopers and going off to teppanyaki and whatnot. But hey, comic. I'd like to do better, but I think it's one of those 'only the artist sees it' deals, because no one else has said anything.
The weekend went fairly well, which is always good. Had the big con rarity of actually having semi-regular meals. The Co-Writer with the Bluest Liver was having a time getting everything done. Me? I spent a good part of yesterday evening being a Colonial sofa. I think someone has photos, and if they don't, we can make some.
I'll be putting up a con report on the ConScrew site early in the week.
If you have been, you've succeeded in confusing me.

---

I'm a bush! by Mich
Sunday, January 22, 2006 at 1:21 AM

For those who went to Marscon's Fri night panel, that's how I was introduced.

By the by, that is NOT a pokeball. Don't get any ideas.

Marscon has been interesting. Last night was more than I wanted to deal with. Though we have proven my favourite adage again this weekend, but I'm not sharing that here, I'll let you wonder.

And why am I still awake if the evening was so intense? Because I have to wait for some show to finish so I can strike the stuff. Feh!

Huh. Guess I have to think up quests now. I've got some ideas, time to really think about them.

If you have been, drink more.

---
---