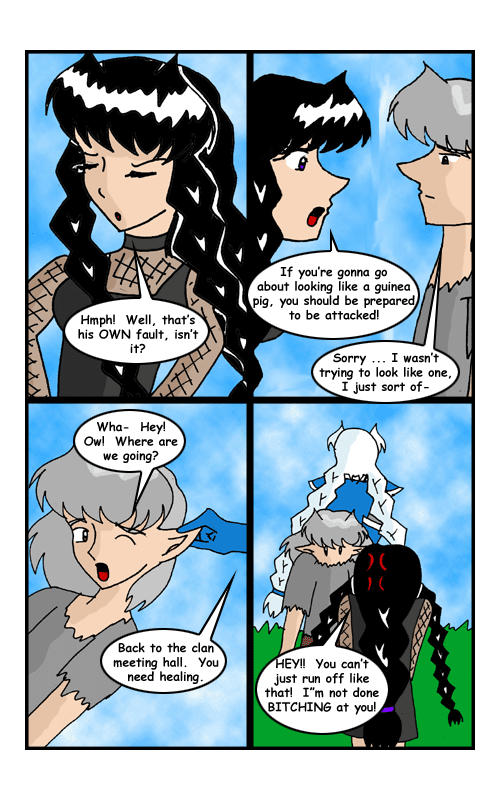 'You have five seconds to rephrase that.' by Kara
Sunday, October 30, 2005 at 1:00 AM

Yay. I just fell back.
It's the time of year when I start getting stupidly busy, and this year I've got it in spades. Holidays coming up, new job starting, my freelance reporting job, two cons next month, and all sorts of other things I'm cramming in on top of that. Hopefully I'll survive. And if I don't, my friends can fight over my fansub collection once I'm gone.
Maive, lovely girl that she is, recovers very quickly indeed from faux pas on her part. And then makes more of them.
Yes, dear. You did say that in your out-loud voice.
If you have been, you'll have to explain it away yourself.

---

Falling back by Mich
Sunday, October 30, 2005 at 12:25 AM

Ah nothing like turning on the radio to "Tainted Love"

It's also fun to work right through daylight savings time. Yay not getting off work until after the clocks have gone back an hour. [ah, but thankfully I'll still be paid for that 'lost' hour]

Loving this transition from summer direct to winter [we used to have a fall season, really, seems to be replaced by wondering what hurricane is brewing next, Beta now]

Alright, so we're going to slow down the trvia questions, they won't be weekly because the next question will depend on an answer from the previous questions.

NO SEARCH ENGINES ALLOWED but other good old fashioned research is.

For those paying attention, Mich stands for Michelob and Mai'lu is I don't know in Thai

Your next challenge? What is the series that a/some character(s) is/are based on?

If you have been, hurry up and get out of the park. I want to go home too.

---
---