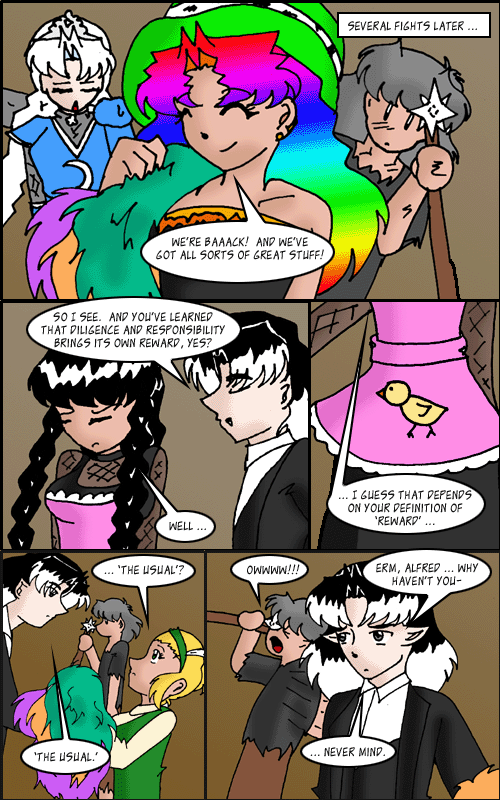 'You know that way he is? That's the way he's gonna be.' by Kara
Sunday, March 5, 2006 at 8:46 AM

Mammas, don't let your babies grow up to be Pisces. It seems to be hell for us fishies right now.
I was trying to get caught up on a few things last night, so I decided to start with recording. The lines I was doing required me to speak in a lower range than I normally do, and so I went to get some water. And you know how they always warn you never to drink anything around a computer? Well, when I was grabbing for the mic I spilled my water and shorted out my mouse.
Keen.
So I had to run to Staples and find a new one. Here's my problem. At home, I'm still running 98SE. I'm working on backing everything up so I can just wipe my drive and start over ... but quite honestly, I don't have a whole day yet I can set aside to upgrade poor Komatsu's brain adequately, so it'll have to wait 'til I can swing the whole thing properly. Why's that a problem?
I couldn't find a mouse that was Windows 98 compatible.
I mean, honestly, ladies and gentlemen. Ya push it around and click stuff. I finally managed to find a nice optical mouse that would work with pretty much anything. This doesn't have the little mouse ball in the bottom, so the same thing can't happen again. I'm tempted to get my grandfather one of these come his birthday, simply because he seems to have a bitch of a time with old-school mice, too.
Also, the Co-Writer with the Longest Hair's car broke. Told you it sucks to be a Pisces.
If you have been, close the door.

---

Codename: Sunshine by Mich
Sunday, March 5, 2006 at 7:32 AM

Yup, I've been given a code name at work apparently. And I'm Sunshine (it was either that or Bob, I wanted to be Bob)

I'm still messing around with puppets at work, though I've moved onto Dooley McFleagle, a relation of Clancy, but he's part fairy part leprechaun if I remember correctly.

Other than that, life is fairly boring. If you're also a regular of Conscrew you might've seen the poll about my laptop. Well, the hard drive has been replaced, and the old one is in data recovery. Once it's back and dead, then we'll see about that Viking Funeral.

If you have been, why haven't you?

---
---