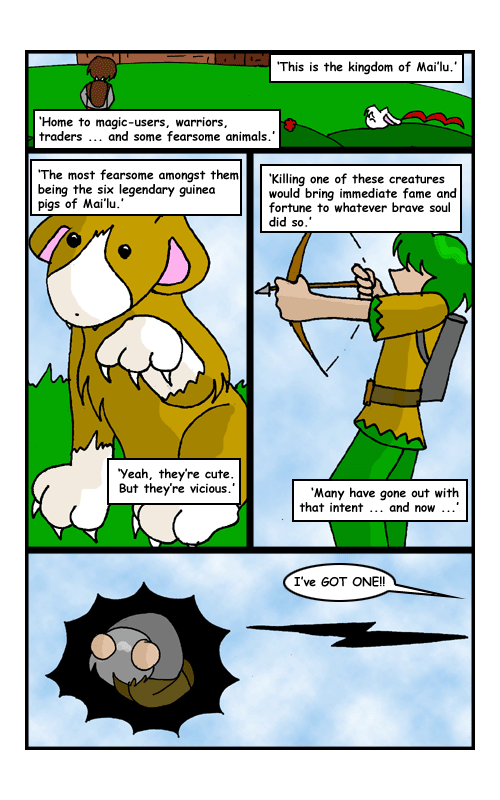 Look at the BONES! by Kara
Sunday, October 9, 2005 at 11:47 PM

Well, now that I've figured out how to show more than one newspost at a time ...
Mich's trivia that she mentions is ... well ... what 'Mich' stands for. I know, of course, because I know all her darkest secrets. Question is if any of YOU know.
I had to go out of my way to make that archer NOT look like Link, incidentally.
I should put up pictures of my own guinea pigs, so you can see how fearsome they really are.
That's all for now. If you have been, be more careful next time.

---

Mai'lu mai'lu by Mich
Sunday, October 9, 2005 at 3:52 PM

It starts. Yes, guinea pigs. Evil guinea pigs. And Mai'lu is an actual word in an actual language.

Unlike some things that may happen later on in the story.

So the idea of sticking random trvia questions in my rants is very tempting. Especially since I could post them mid-week and no one would know! Hah!

And I'm guessing we have no guesses to the question I stuck up...oh...Fri I think.

Ah well. The lovely artist is off with her weird uncle tonight. We all know she has a weird uncle right?

---
---