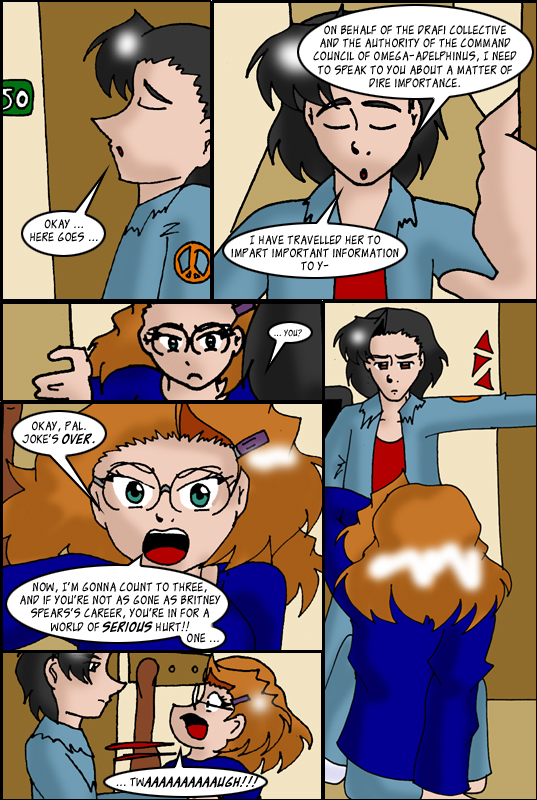 "Trust me,I am experienced at eating Nutty Nuggets.....and you're gonna need more milk." by Rob
Tuesday, February 7, 2006 at 5:07 PM

Well, that's over. The artist and I were in a quandry about the scripts I wrote...seems I'm too harsh sometimes on character poses. But never fear...we'll be getting better and better in our understanding of each others abilities.
In other news, Katsucon is around the corner(Feb 17-19) and I have lots to do by then...fix costumes, finish new ones, and general con madness. If you've never been to one...you can't understand no matter how much I explain. My only complaints are the room prices *$$$* and lack of parking, wich means I can't bring the FC...fiddlesticks! It's so much fun to see fans faces when they see it.I can't believe this is the 12th one(katsucon)...*shudders* I haven't missed one yet.
God I'm old.
I also saw the first Zeta Gundam movie the other day...and I must say, if you have seen the series before it's still worth a look. There's enough new animation to make you go 'Ohhhh' and 'Ahhh', and if you haven't seen the show before, you have no excuse now that its been neatly packaged into a bite sized series of movies. Can't wait for #2
And damnit! See Top Onerai,Gunbuster already if you haven't!!!
....fiddlesticks!?
Resistance is FUTILE!!!
Neo-Vader III

---

'I can take a nap on a manatee. Can YOU take a nap on a leprechaun? NO!!!' by Kara
Tuesday, February 7, 2006 at 10:23 AM

Last night I learned I can't draw anything from a worm's-eye view. (Don't worry about that statement too much.)

Doctor's visit attended to this morning. General good news (or benign news, anyway). Few things I'm not terribly enthused about, but not-terribly-enthused is a lot better than it could be. Also, being late to work prevents me leaving early to go get sushi, but that's just an annoying side effect.

So never fear. Your manga-ka lives on. Or, well, maybe do fear. I suppose that's up to the discretion of the individual.

Note new Webcomics List incentive art. Don't you want a piece of that? Click, and you can have it. Note TWC's gotten all clever in the voting thing, mainly because (I guess) comic owners were somehow cheating. So you just need to take a sec to glance at a picture and choose a button. Nothing too taxing. I've managed to do it a couple times.

Gotta be something else I can mention. Um ... oh, yeah. Chouja Reideen. I've been watching that. It's messed up. Also, you know you've been watching Sexy Commando too long when, during the final episode, you find yourself saying, 'Ohhhhhh, I get it!!!'

If you have been, it's your own fault.

---
---