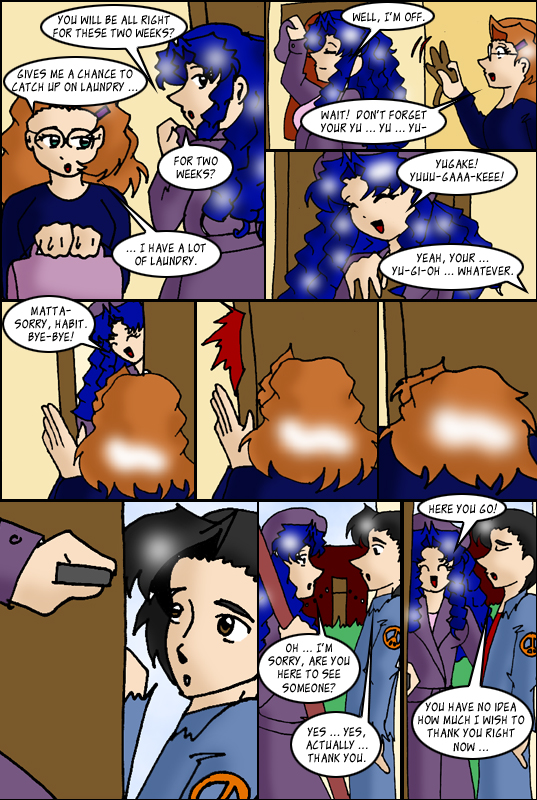 "Gwah! It am hurt me brain. Me stoopid now." by Rob
Wednesday, February 1, 2006 at 6:03 PM

Woah....we just watched "Protectors of Universe"...it's a bootleg anime DVD I bought at Wal-Mart some months ago.It cost me a dollar.
That's right a Dollar. One US dollar. One hundred cents. ONe fifth of a Five dollar bill...plus tax.
Let's just say you get your moneys worth when you pay ...One dollar...
And I quote form the Box..."A fierce and bloody battle begins. With the reunion of Super Speeder and Mazinga 7 and a group of brave warriors, Alfred is Finally defeated. The bionic human is exploded and the colony destroyed."
....The bionic human is exploded!?
God I'm sick.....
Resistance of the cold is FUTILE!!!
Neo-Vader III

---

'You are the veritable kingpin of the monkey farm!' by Kara
Wednesday, February 1, 2006 at 8:07 AM

Well, after Tuesday's excitement, it's nice to be back. Despite my general ire at my provider yesterday, I will admit that they did get on the case (by way of archives and rantage) fairly quickly. Would've been better if none of this had happened at all, but you know. Things break, things need doing, and I suppose God needed to keep the track record of my Mondays falling on Tuesdays. Things could definitely have been worse in retrospect, so I'm thankful they're not.

At last contact, the Co-Writer with the Longest Hair is sick and hopped up on TheraFlu. That's miserable. Seeing as we both ended up nasty-sick last February, my luck may run a bit short. But as long as it's not on the weekend of the 17th-19th (Farpoint) or the following (my birthday), I will deal as best I can.

Shoulda done the flu shot this year.

Okay, it isn't that Reika's dumb here. She's just that nice. I mean, as smart as Taliesin may be by way of alien widgets and making his way across space to the proper building, he does have the capacity to look pretty pitiful. Can you tell me, in all honesty, that you would not open the door for Taliesin? Can you?

... right. Well. If you have been, save some for me.

---
---